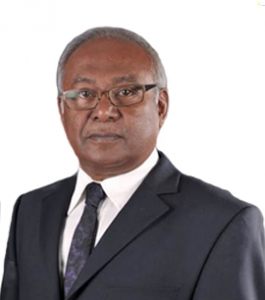 Mr. Adam Maniku has over 30 years of experience at policymaking levels, both nationally and internationally, mainly in the areas of finance, banking, poverty-alleviation and transport systems. He holds a Master Degree in Economics & Finance at University of Sorbonne-Paris.
Since 2008, Mr. Maniku has held the post of State Minister for Transport in the new Government. Additionally, since 2009, Mr. Maniku has served as a member of the privatization committee at the President's Office.
Prior to his resignation from the Government in 2005, Mr. Maniku had a long and distinguished career in Government Service including 11 years as Deputy Minister of Finance and Treasury and 12 years as General Manager at the Maldives Monetary Authority. He was also a Member of Parliament for Seenu Atoll from 1983 to 1990.
At the international-level, he has held a wide-variety of senior posts, including 27 years as Alternate Governor at the International Monetary Fund, and 3 years as Alternate Governor at the World Bank, the Asian Development Bank and the Islamic Development Bank.
He has also served as a GFA consultant on 'small and medium enterprise development' to the Asian Development Bank, and has undertaken work as an IMF consultant in the development of a central bank in the Democratic Republic of Timor-Leste.
Mr. Maniku established the Creative Arts and Crafts Training Centre (CACTC) in 2000 that provides arts, handicraft training, and livelihood opportunities for the youth of Maldives.
In recognition of his invaluable contributions to the preservation of arts, culture and heritage in the Maldives, Mr. Maniku was awarded the Certificate of Excellence for Handicrafts by the United Nations Education, Scientific and Cultural Organization in 2008.
His exceptional architectural designing skills towards art has greatly contributed to the development of Kanifinolhu resort. Mr. Maniku is presently a Director of Cyprea Group of Companies.