Cyprea Pvt Ltd was established in 1977 as a limited liability company manifesting the true essence of partnership to venture in the various business opportunities in the country. The late 1970's can be remarked as the era of industrialisation and commerce with the rush of tourism in the Maldives that saw the dawn of private enterprise. At time of economic despair that followed by the closure of British airfield in the south and the collapse of market for dried fish made the nation to step forward for diversification in order to attain economic recovery and independence.
Cyprea emerged as a hotel proprietor and diversified to various sectors of business for growth by carefully choosing its participation in supplementary endeavours related to tourism. The company is active today in the business of real estate and property development, courier services, passenger sales and cargo agency, Freight and logistics, fisheries production and export, international seafood trading , Food and beverage , warehousing and supply management , credit card merchandise services and electronic transaction processing, trading and tour operation.
The process of business expansion through executive commitment and the contribution by dedicated team of staff had resulted in a business infrastructure that depicts sustainable growth. Cyprea had portrayed the philosophy of virtue in every aspect of business and had always established a precedent that could shape up the business infrastructure.
Kanifinolhu Resort – Owners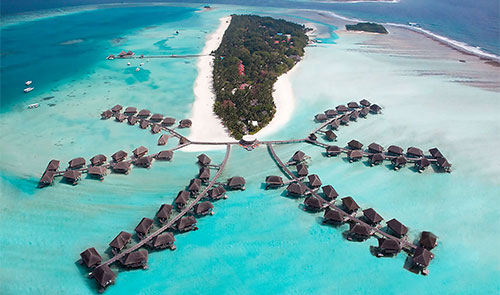 Kanifinolhu, fondly referred to as Kani began operations in 1979. The resort is one of the most established in the industry.
Kani is designed to give the visitor the feel of a Maldivian village in an atmosphere of luxury and comfort. The concept is derived from old traditional wooden houses still found preserved in some islands.
The resort comprises of 149 beautifully designed, lavishly furnished, beach fronted rooms, tucked inside the lush green beach vegetation and 75 water bungalow rooms located in the extensive lagoon of the resort. Other facilities of the resort include two bars, two beach bars, restaurant surrounded by beautiful tropical blooms, a childcare centre, well-equipped dive centre and a water sports centre. At present the resort is being managed by Club Med.
Qatar Airways – GSA

Qatar Airways, the national carrier of the State of Qatar, is celebrating more than 20 years of Going Places Together with travellers across its more than 150 business and leisure destinations. The world's fastest-growing airline will add a number of exciting new destinations to its growing network in 2018, including Tallinn, Estonia; Valletta, Malta and many more, flying passengers on board its modern fleet of more than 200 aircraft.
A multiple award-winning airline, Qatar Airways was named 'World's Best Business Class' by the 2018 World Airline Awards, managed by international air transport rating organisation Skytrax. It was also named 'Best Business Class Seat,' 'Best Airline in the Middle East,' and 'World's Best First Class Airline Lounge.'
Qatar Airways is a member of the oneworld global alliance. The award-winning alliance was named the World's Best Airline Alliance 2015 by Skytrax for the third year running. Qatar Airways was the first Gulf carrier to join global airline alliance, oneworld, enabling its passengers to benefit from more than 1,000 airports in more than 150 countries, with 14,250 daily departures.
Qatar Airways proudly supports a range of exciting international and local initiatives dedicated to enriching the global community that it serves. Qatar Airways, the official FIFA partner, is the official sponsor of many top-level sporting events, including the FIFA 2018 and 2022 World Cups, reflecting the values of sports as a means of bringing people together, something at the core of the airline's own brand message – Going Places Together.
Qatar Airways Cargo, the world's third largest international cargo carrier, serves more than 60 exclusive freighter destinations worldwide via its world-class Doha hub and also delivers freight to more than 150 key business and leisure destinations globally with more than 200 aircraft.