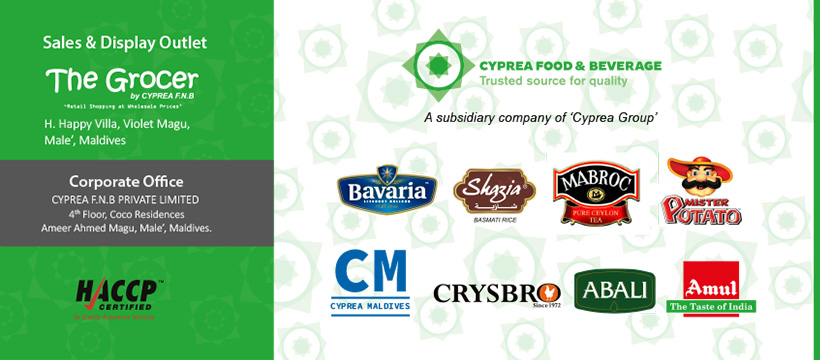 Formed in 2014, Cyprea Food & Beverage Private Limited is a subsidiary company of the 'Cyprea Group'. While It is the Food & Beverage wing of the parent company, it is an emergent supplier for a range of dry – food, non – food, frozen food and beverage products to the local market and the resort sector.
With the ultimate vision of becoming the desired supplier for food & beverage in the Maldives, the company is determined to achieve its goal by providing competitive prices, quality products and an uncompromised level of service to its customers.
Having associated with reputed brands from many parts of the world the company continues to bring on board a fleet of well researched products with the aim of providing 'value for money' to its end users.
As a relatively young player, Cyprea Food & Beverage continues to strengthen its product mix by welcoming renowned brand dealerships and providing alternate options to prevailing brands with the intention of securing a considerable share of the Maldives' food & beverage market.
Meanwhile, AMUL, Bavaria, MABROC Teas, Shazia Basmati, Mr. Potato, Crysbro and our very own home brand Cyprea Maldives (CM Brand) are some of the brands we are currently associated with and look forward to escalating our brand mix to the next frontier.