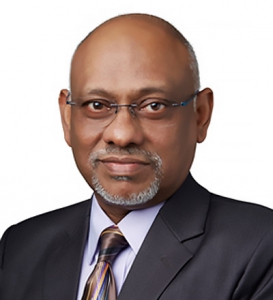 Mr. Abdullah Hameed started his career in the field of shipping when he joined the Maldives Shipping Limited in 1973. After three years of service at the MSL Head Office in Bombay he was seconded to Zenith Management Corporation, Greece as an Area Representative.
Mr. Hameed has held several senior posts at the Ministry of Transport and Shipping and has also served as an Under Secretary at the Ministry of Atolls Administration. In June 1991 he was transferred to the Ministry of Foreign Affairs as the Chief of  Protocol and served in this post until 2006. From December 7, 2006 to August 13, 2008 he served as the Deputy Minister and later from August 14, 2008 as Minster of State for Foreign Affairs. He was the Minster of State for Foreign Affairs until he resigned in November 2008.
In 2010 Mr. Hameed was appointed as the Honorary Consul of the Republic of Seychelles in the Maldives and he served in this post until the Government of Maldives in 2013 appointed Mr. Hameed as Ambassador-at Large in the Ministry of Foreign Affairs. He also served as the Non-resident Ambassador of the Maldives to the United Arab Emirates and the State of Kuwait. Mr. Hameed served as the Ambassador to the Kingdom of Saudi Arabia from August 18, 2015 to December 31, 2018.
Mr. Hameed also served as a Member of Atolls Development Advisory Board, the National Youth Council of Maldives, Maldives Tourism Promotion Advisory Council, Foreign Investment Board and the National Civil Aviation Safety Committee. He has also been a member of the Board of Maldives Association of Tourism Industry. From 2005 to 2008 he was the Chairman of Bank of Maldives.
As a Director of Cyprea Group, Mr. Hameed has represented the Company in many international Tourism Fairs and Exhibitions promoting Maldives as a destination and also had worn awards for his services to Sustainable Tourism in the Maldives.